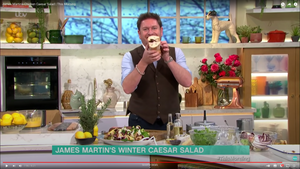 James Martin Cooks With Emmett's Black Bacon On This Morning
James Martin is at it again, cooking his chicken caesar salad featuring our famous Suffolk black streaky bacon. This time he's been on This Morning sharing his recipe with Phillip Schofield, Holly Wiloughby and the nation. We recently shared with you the episode of Saturday Kitchen with James Martin where he first cooked the dish featuring our very own black bacon on national TV. We know James is a big fan of Emmett's produce, but now we can count Phillip Schofield as an admirer too with his comment of "unbelievably good!". Check out the clip of the show below and try your hand at making James' dish - let us know how you get on!
 "Un-believ-ably good!"

Phillip Schofield
James Martin's Chicken Caesar Salad
James Martin knows a thing or two about good food having been taken under the wing of Antony Warral Thompson and becoming the head chef of a newly opened Hotel and Bistro du Vin at just 21. So when he enjoys a dish and its independent ingredients so much, it's worth taking note of. The chicken and bacon with caesar salad sharing dish is delicious in its simplicity, using only the very best Emmett's Suffolk black bacon.
The Famous Emmett's Bacon?
Our ham and bacon is award winning, famous and simply delicious! Its no wonder James Martin chooses our produce when he wants his recipes to really come to life. In the caesar salad he makes on This Morning James is using Suffolk streaky bacon, but we're also renowned for our selection of hams, complex cheeses, crystallised fruit and our own rioja, to name just a few things.
In our online shop you can browse through Great British Food Awards Winner Suffolk black ham, which is marinaded for 6 weeks before being smoked. Or you could choose our orange ham which is our signature black ham on the bone with additional all natural flavouring that not only tastes exceptional, it looks amazing! We also have a great range of hams that could suit any occasion, such as our green earl grey tea unsmoked ham.