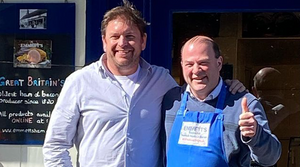 A Surprise Visit From James Martin
Having been on the James Martin Saturday Morning Show I had the thrill and honour to meet James and his team today in person when they suddenly appeared in store. I took James around the store and he spent some time taking pictures with our staff before going on his way.
We're big fans of James and all of his work across the culinary field so we were over the moon to show him the history of our great shop. We also enjoyed showing him exactly where and how the famous Suffolk black bacon, he used on his show and on This Morning, is made.
James took his time to buy a few bits from our shop while also taking in the history of our 200 year old smokehouse where we've been smoking our own black ham since 1820. We're open for business so if you'd also like to come in and see what appetising delights might interest you our friendly staff are always on hand.