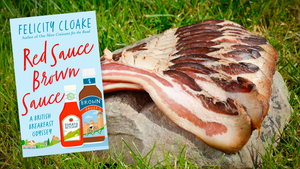 Felicity's Encounter With Emmett's
Red Sauce Brown Sauce is an enjoyable and informational read about Felicity Cloake's breakfast-focused journey across the UK on her bicycle. Felicity is an award-winning author of the Guardian's How To Make The Perfect Column and the writer of six previous books to Red Sauce Brown Sauce. Traveling the length and breadth of the British Isles meant she came across some interesting breakfast tastes and traditions. Her own, however, could also be looked on in wonder. 
If there's one thing that truly unites Britain, from Aberdeen to Aberystwyth, St Ives to St Pancras, it's an obsession with breakfast.
Cloake's British Adventure Inspiration
Felicity is the author of One More Croissant For The Road published by Mudlark, which charts the writer's journey through France on a bicycle again. Six weeks were spent cycling around France with the intention of research, draw of nostalgia and a reconnection to French cuisine. Her eyes were opened with the septh of French cooking and it's non-stereotypical recipes - "But those six weeks pedalling around l'Hexagone made it clear that I wasn't that familiar with French cuisine after all."
As One More Croissant is a tale into France itself as a standalone piece of travel writing, Red Sauce Brown Sauce follows the same theme. Of course, the theme is predominantly centred on food, and there are recipes involved, but the resonance with food, location and communities is at its heart.
The Greatest Bacon Roll of All Time?
As a writer for a food magazine Felicity had already visited our 200-year-old smokehouse, chiefly to write about our "cult" Suffolk black hams. She fondly remembers her visit and the delicacies in our famous fine food store, such as our whole cystallised oranges and Spanish goat's cheese.
Felicity's purpose for her most recent trip? To try the greatest bacon roll of all time! Mark tells her how there's no unnatural white fat pouring off Emmett's bacon when frying as we don't use nitrates. Mark serves Felicity up a sandwich that's "a work of art", served on local organic wholemeal bread with melted Montgomery Cheddar cheese with a good portion of date and lime chutney. All the side ingredients are carefully selected to complement the black bacon.
...somehow the flavour of the pig still dominates; not overpoweringly salty, or smoky, but emphatically porky, which is, in my experience, a sadly rare thing.
To get the recipe and method for Mark's Greatest Bacon Roll Of All Time head over to your favourite book store and purchase Red Sauce Brown Sauce. Or, watch this space and we'll soon be publishing our own version in Mark's Cooking Tips!